Le Pays du Guil, your destination if you're into sports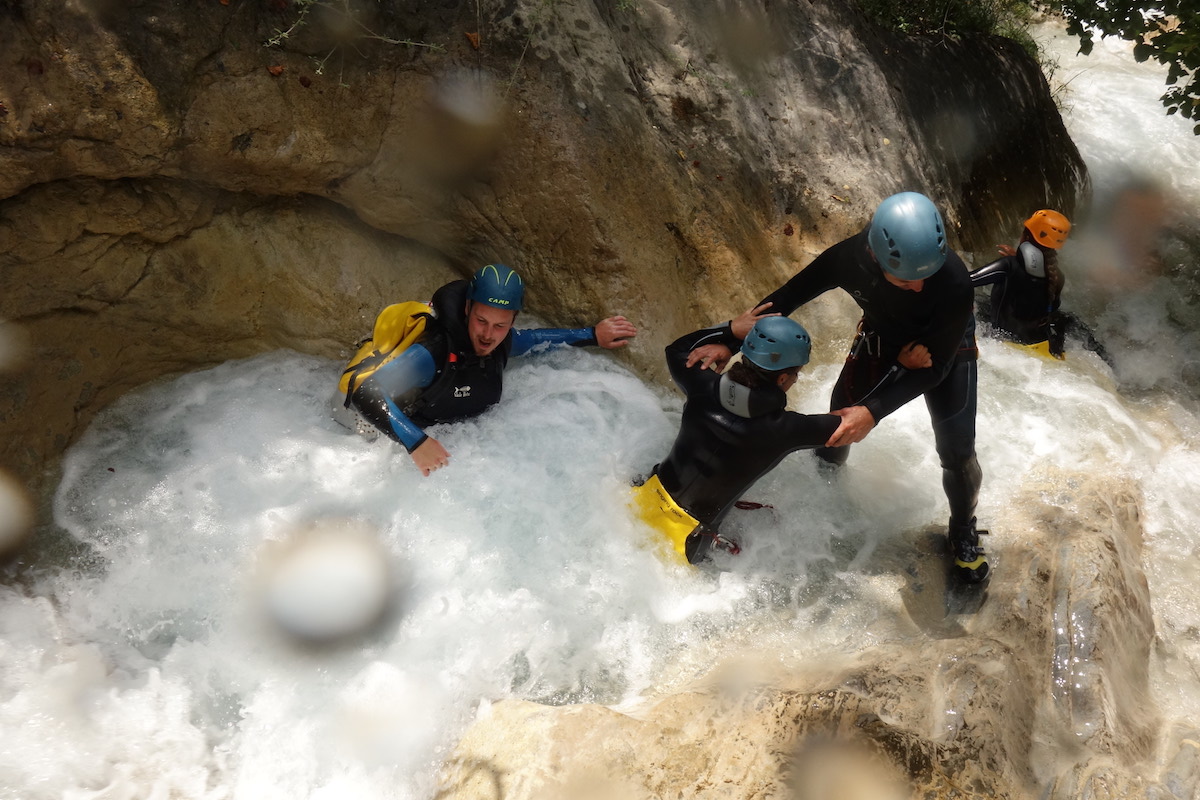 Canyoning, Escalade and Via Ferrata
We are graduated independant instructors living and working in the Hautes Alpes. Our aim is to let you discover, in a safe way, vertical activities, full of top sensations. Ranging from easy tracks, doable with children to challenging parcours for the more experienced, the mountain torrents are ideal for canyoning, or discover and progress on a via ferrata or mountaineering or rock climbing.
Charlie Perdreau
La Font
05600 Eygliers
Meet us at our base camp at the hot water springs of the Plan de Phasy
+ 33 6 231 230 21
Jean-Philippe Cherbonnier
Cross country ski – rock climbing – ice climbing – mountaineering – via ferrata
As a mountain guide I have my base camp in the Queyras Natural Parc for almost 10 years now. The reason for coming to live in the Queyras was a choice of quality of life as well on a professional as on a personal level.  This splendid region allows me to help you in a lot of activities, such as cross country skiing, hiking, rock climbing, ice climbing, mountaineering, via ferrata.
Focus on safety and friendliness are at the very centre of my engagement.  I'm partnering with some accomodations that'll make you discover the area in their turn with respect to gastronomy and local products of the Queyras.
rafting, canoë-raft, air-boat, open-canoë, on the Durance
Philippe RYDIN, I am an independant graduated river instructor.  Contact me for rafting, canoë-raft, air-boat, open-canoë, on the Durance.  My preference is to work with small groups for half a day. Friendliness and safety, starting point in St Clément sur Durance.
Rafting: 
6 to 10 persons per boat for approx. 16 km on the river from Saint-Clément to Embrun, in total 1h30 on the water.
Children as off 7 years old.
Canoe:
A pneumatic canoe for 2 persons.  16 km on the river from Saint-Clément to Embrun for a duration of 2h.
Children as off 10 years old accompagner d'un adulte.
Air-boat:
A pneumatic kayak for one person, very easy to maneuver, 16 km on the river from Saint-Clément to Embrun, in 2 hours.
Children as off 12 years old.
Philippe Rydin
La Chapelle
05600 Saint Crépin
+33 6 64 63 64 25
Stages kayak eau vive, Discovery, learning and improving, in small groups (max 5 persons), for one or several days on all the rivers of the Hautes Alpes as well as abroad (Spain, Italy, Slovenia, Austria, Switserland)
Les spécialistes pour la découverte des Hautes Alpes en randonnée ou en VTT
We are a group of professional mountain instructors that like to share our passion with you, in all seasons. Our mountain bike instructors and mountain guides are there to make you discover themed hikes, mountain biking with family or with friends, stages for children, downhill rides as well as Fat Bike in winter. We adapt our offer according to your needs, be it for a group, for a family, for persons with disabilities, a school or club to let you discover the mountains. Contact us to make use of our experience and profound knowledge of the area (Guillestrois, Queyras, Ubaye, and the Ecrins) and share with us the "Mountain spirit".
We operate in all seasons: We'll prepare your activities in detail and professionally and guarantee unforgettable moments in our mountain scenery.
rafting, canoe-kayak, hydrospeed, canoraft
Olivier, an independant white water instructor, will assist you with your white water adventures adapted to your needs and capabilities, age and desires.  
I have created my this independant business after several years as an instructor for outside sports in the UCPA.
I mainly work on the Durance and the Guil.
We prioritize personal contact, strive for high quality of our material  (we provide neoprene slippers and recent wetsuits), and we aim for "out of peak time" departures, avoiding the hours where there are too many other boats on the water in peak season. This allows us to really enjoy these moments in nature together.
Children as off 6 years old.
It is mandatory to be able to swim to participate in our activities.  
PURE RAFTING
Olivier Planus
Base de loisirs d'Eygliers
05600 Eygliers
+ 33 6 87 72 56 38